This Story of Country Music in Australia was written by John Minson and Max Ellis. It does not claim to be a detailed history but rather tries to present an overview of where Australian country music came from, the individuals who created it, how it changed over the years and how it has influenced country music in Australia today.
For more comprehensive early history, read Eric Watson's seminal book, Country Music in Australia. For detailed chronological history see Country Music Through the Years in the 2005 Directory of Australian Country Music or Walk A Country Mile Interpretive Centre in Tamworth. For details check the Sources & Resources section of this site.
We would welcome any comments or questions and will always consider additions, alterations or amendments.
The Foundations – 1788 to 1920s
In the beginning…. the didgeridoo, bullroarer, clap-sticks and the corroboree provided the music of our country.
Then in 1788 new sounds were heard in the "timeless land".
The first fleet brought convicts and their gaolers, exiles in a strange and unfamiliar continent.
With their chains, the new arrivals brought folk melodies and music hall ballads from the old countries and soon they were adapting these songs to reflect their new lives.
They told of the hardships and isolation endured in the harsh new land… and the injustice.
Many of the first Australian songs told of bushrangers or bolters.
The fiddle, concertina, banjo, mouth organ, penny whistle and tea chest were popular instruments.
By the mid 1800's, the colony was expanding into the vast interior. Free settlers joined the convicts and ticket of leavers and their children proudly called themselves Australians.
The forests rang to the sound of the axe as land was cleared for the plough and the endless bush was fenced, stocked and settled.
Then, the rush for gold. People came from all over the world but the songs that entertained the diggers were about Australia.
As our nation's story unfolded there was always a song or verse to accompany each chapter...
Like droving... Loneliness and isolation... Droughts and floods... Stockmen and horsemanship… and, of course, shearing.
In the 1880's and 90's writers for the Bulletin like Paterson, Lawson and Ogilvie, established a tradition of Bush Ballads, which is still a strong influence in Australian country music today.
The new century brought Federation. Australians were showing pride in their own music and this Waltzing Matilda by Banjo Paterson was beginning its climb into history.
Then World War one and Australia received its heroic baptism into nationhood at Gallipoli, immortalized in ceremony, story and of course, song.
Looking back, we can see that today's Australian country music was built on the same historic foundations that shaped our nation.
The Birth of Country Music – 1920s to 1940s
In the 1920s. Two developments had a profound influence on the future of Australian country music... the introduction of radio in 1923 and the spread of the phonograph.
By 1929 more than three hundred thousand Australians homes had a radio license, and many households had a wind-up gramophone.
Meanwhile new music was taking shape in North America. In 1924 Vernon Dalhart recorded one of the first hill-billy songs on disc... "The Prisoners Song".. followed soon after by the famous Carter Family... and The Singing Brakeman, Jimmie Rodgers.
By the '30s, country music was an established part of rural life. Jimmy Rogers and other recording artists like Wilf Carter and Hank Snow soon had young Australians singing.
The familiar Regal Zonophone label released some local country talent including Vince Courtney and Art Leonard.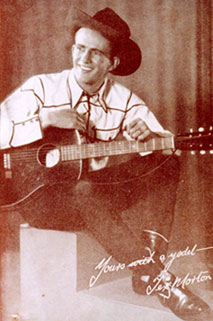 But it was New Zealand born Robert Lane, who, as Tex Morton, earned the title "Father of Australian Country Music"
From his first recording session in February, 1936, Tex easily out sold the American stars.
A talented and versatile showman, he initially sang American songs but he quickly realised people wanted him to write and sing about Australia too.
He pioneered a genuine, original Australian style of country music, which had an enormous influence on aspiring young artists like Slim Dusty and Buddy Williams.
Buddy, who grew up on a dairy farm near Dorrigo followed Tex into the Columbia Studios in Sydney in 1939, a boy from the country writing and singing his own songs about his life in the Australian bush.
Then our first Australian country girl to record solo. Queenslander Shirley Thoms quickly became a favorite on the airwaves.
Meanwhile in Melbourne a young singer and all-round entertainer started adding hill-billy music to his Hawaiian radio show, recording in 1941 and ending up some 65 years later as one of Australia's best loved country music characters, Smoky Dawson.
Australian Country Music was on the way.
Country Comes of Age – 1940s to 1960s
War dominated the early 40s but by 1946 a different legend was being born on a small dairy farm at Nulla Nulla Creek, in the peaceful Macleay valley near Kempsey, NSW,
David Gordon Kirkpatrick turned himself into Slim Dusty and recorded the first of over a thousand songs he would put on disc during the next 55 years. He became one of our most successful and enduring entertainers... an Australian icon, writing and singing about the land he loved.
In the late 40s and 50s country music boomed as more new stars appeared including many artists who would be famous for decades to come.
Country was seen in the cinema, it played in talent quests, show grounds and town halls. It even had its own magazine… Spurs.
Country reigned on radio, with Tim McNamara, Reg Lindsay and the McKean Sisters in Sydney, the Trailblazers in Melbourne, Bob Fricker in Adelaide, the Harmony Trail in Shepparton and Lismore's Radio Ranch Club.
The Adventures of Smoky Dawson was heard on hundreds of radio stations all over Australia and later, seen on TV.
Circus and variety shows all had country acts too.
Country Music took to the road in a tradition that continues today, with the Buddy Williams Show being joined on the outback circuit by the Slim Dusty Show, the Rick and Thel Show and many others.
The familiar Regal Zonophone and Columbia labels expanded their repertoires, and ARC launched the Rodeo label.
The 1950s saw consolidation of the Slim Dusty phenomenon... launched by Australia's first major radio chart hit, the Gordon Parsons penned "Pub With No Beer" recorded and released by Slim in 1957.
"The Pub" became the best selling 78 record of all time, our only gold 78 and Australia's first international Number One Hit.
In 1960 Johnny Ashcroft recorded the saga of a little boy lost near Guyra, topping charts nationwide.
This was followed by "I've been every where", another huge hit written by Geoff Mack, which was, and still is, being recorded all around the world.
1960 ushered in the micro groove long play stereo record and the ubiquitous Phillips cassette, as well as new labels like RCA Festival, W & G, and specialty labels like Hadley and C M
A new crop of performers appeared including Jean Stafford, The Singing Kettles, Johnny Heap, John McSweeney, Terry Gordon and many others.
In the 60's country took to Television. In 1964 The Country and Western Hour was produced in Adelaide, compered by Roger Cardwell and later Reg Lindsay.
In New South Wales registered clubs supported country music while fan clubs flourished everywhere.
But in the '60s our country music was already reflecting the major changes which were re-shaping popular music around the world.... Rock and Roll.
In a relatively short time from the late 50s, rock & roll had supplanted other genres of popular music, dominating the city stages and radio and TV airwaves. It drove country music into the backblocks where travelling shows struggled to keep it alive.
It took almost a decade for that decline to be reversed.
In 1965 country music found a new champion. John Minson started an Australian country music program, "Hoedown" on Tamworth's Radio 2TM, playing predominantly Australian music.
It was an immediate success with support from artists and fans alike and in 1969, the people at 2TM recognised the potential, and came up with the concept of Tamworth, as Australia's "Country Music Capital".
Australian Country Music would never be the same.
Tamworth Takes Its Place – 1970s
The seventies was the decade when Tamworth truly took its place as Australia's "Country Music Capital".
To quote John Minson " My Radio program Hoedown on 2TM was mainly Australian country music that wasn't heard on radio anywhere else. In no time at all we had a phenomenal night time audience all over the nation."
With radio-promoted stage shows, and the Country Music Club Jamboree and Talent Quest, Tamworth became the mecca for artists and fans.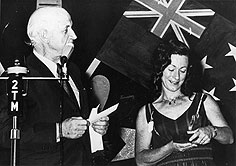 Tamworth had been proclaimed Country Music Capital of Australia in 1969 and in 1973, Radio 2TM staged the first Australasian Country Music Awards, presenting the first of the now famous Golden Guitar trophies to Joy McKean (Joy receives the first Golden Guitar from George Dasey).
As tens of thousands of fans flocked in to the January long weekend, 2TM started adding the Hands of Fame, Roll of Renown, Bluegrass championships, buskers and other events around the Awards. The Tamworth Country Music Festival was on its way.
Meanwhile Country Music broadened its appeal. Artists like Suzanne Prentice, Jean Stafford, 1901, Saltbush, Anne Kirkpatrick and Lindsay Butler joined the established stars on the Awards stage and Nev Nicholls packed the Texas Tavern in Kings Cross entertaining Americans on R&R from Vietnam.
And bluegrass music took off, while trucking music hit the highway.
New television shows included John Williamson's "Travellin' Out West" and later in the decade in TV shows compered by Reg Lindsay and Johnny Chester.
Elsewhere, new festivals like Wandong in Victoria were springing up.
The Hawking Brothers Band, Saltbush and others toured North America
Eric Watson wrote his Country Music History while Slim Dusty too, wrote a book, which in 1983 was turned his own movie.
On radio from 1977 Nick Erby's weekly Country Jamboree was heard all over the nation while in America Jewell and Arthur Blanch carved out stellar careers.
... And a new generation of country talent thrilled a new generation of fans.
After a decade of consolidation the foundations were well and truly laid for a popular resurgence of country music in Australia.
The New Wave – 1980s - 2000
The last two decades of the 20th century saw amazing growth for country music in Australia.
While the pioneers still entertained their audiences a new generation of artists like Johnny Chester, Jewell and Arthur Blanch, John Williamson, Bullamakanka, and the Flying Emus thrilled a new fans, laying the foundations for today's Australian country music.
Record sales soared and John Williamson's True Blue became an Australian classic
Festivals flourished with events from talent quests to bush band and country rock concerts happening all over the nation including major events like the National Country Music Muster at Gympie which started in 1982.
In 1979, "Grand Junction" won the inaugural 2TM Star Maker quest, the first in a long list of winners through the 1980s and 90s, which included Lee Kernaghan, Keith Urban, Gina Jeffreys, Beccy Cole.
In 1981 Country's own newspaper, Capital News, went monthly and was soon followed by other publications.
In the late eighties the compact disc came in, microgroove records went out and recording technology got better and cheaper.
And in the 80s we lost some of the pioneers. Tex Morton and Tim McNamara died in 1983, Buddy Williams in 1986 and Alan Hawking in 1988.
In 1987, Star Maker winner James Blundell was catapulted to instant stardom, the first of an exciting generation of vibrant new stars with big album sales and cross-over hits.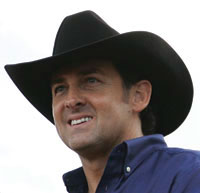 In the '90s, country's new image shifted the music into the main stream.
Lee Kernaghan burst on to the scene attracting record-breaking concert audiences.
More new stars including Gina Jeffreys, Colin Buchanan, Troy Cassar-Daley, Adam Brand, Kasey Chambers and Graeme Connors started winning Golden Guitars. Others like Keith Urban and Sherrie Austin made their mark in Nashville, while the established artists just kept growing in popularity.
The Tamworth Festival was booming, with well over 40,000 visitors from around the world joining the locals by the end of the decade.
In 1992 the country music industry formed its own governing body, the Country Music Association of Australia or CMAA.
And from 1993 the Golden Guitar Awards were staged by the CMAA, moving the event back to the fans, first in the Show Ground and then into TREC, gaining extensive TV coverage and a reputation for excellence. In 1994 Toyota starts it's major sponsorship of Country music with the Awards.
The CMAA launched the College of Country Music in 1997 and started a whole program of industry activity including research, which proves millions of Australians enjoy listening to country!
Country music had everything except a home.
The Awards now one of Australia's best known music events, had moved from the Town Hall to a big top to a factory, a club, school halls and a rodeo arena.
In 1998, after 20 years of campaigning, the country music industry staged their "CMAA Concert of the Century", to celebrate the opening of the Tamworth Regional Entertainment Centre... the magnificent, permanent home of Australian Country Music.
The new century continued the expansion as Slim Dusty's catalogue crept closer to its own century celebration... a hundred individual albums by the King of Australian Country Music, reaching that milestone in July 2000. This achievement was highlighted on world wide TV when the legend closed the Sydney Olympics singing Waltzing Matilda.
Tamworth Festival continued to attract crowds of 70 to 80 thousand and was listed as one of the top 10 music festivals in the world by the Melbourne Age in 2001. In 2003 the Awards celebrated it's 30th anniversary.
In the early 2000s Lee Kernaghan entertained vast audiences in his Pass The Hat Around tours raising $13.5 million for charity while in 2003 Kasey Chambers astounded everyone by winning the Best Female Artist Award at the ARIAs against the worlds best international stars like Kylie Minogue
Kasey's albums started selling some half a million units and she toured with great success in the States.
In America too Keith Urban is now being hailed as a major Country Music star with enormous on going chart and sales success.
In the 2000s Australian guitarist Tommy Emmanuel is also building a huge international reputation while Australians Sherrie Austin and Jamie O'Neal also making their marks in the US.
In the early 2000s, Australian Country Music is consolidating its position as a vibrant, forward looking industry, with exciting new talent coming on stream all the time and a growing public following.
In 2004 Sara Storer won an unprecedented seven Golden Guitars and Adam Harvey, Melinda Schneider and Brendon Walmsley also took their places in the winners circle. Gold records, once the preserve of pop singers are now being earned by an increasing country artists.
Then on September 19th 2003, the end of an era. Slim Dusty dies, generating an unprecedented flood of spontaneous tributes from every part of the community. He is given a State Funeral.
Australian Country Music will never be the same but Slim lives on in the songs he sang about the land he loved.
Our country music has changed and developed over the decades, altering and adapting as our society grows.
For over 200 years, music has told the story of our land and its people. With this strong heritage and tradition to build on and our talented musicians, songwriters and singers, we can look forward to an exciting future for Australian country music.
Country Music is truly the music of our country.
Revised 3/3/05