The Story of Australian Country Music
A TRIBUTE TO SHIRLEY
– Slim, Chronicler of the Bush
A Tribute to The McKean Sisters
Arch Kerr – pioneer record producer
Australia's College of Country Music
Brief History of the Golden Guitar Awards
Country Music Capital Meets Music City
History of the College of Country Music
How Tamworth became Country Music Capital
How the College of Country Music Works
Narrative! Narrative! Narrative!
Origins of the Tamworth Country Music Festival
For more information
Contact: Max Ellis
Email info@historyofcountrymusic.com.au
Disclaimer
All matters relating to the conduct of this site remain under the total control of Max Ellis or his nominees who will endeavour to ensure the accuracy and balance of the content and proper conduct of the site but, subject to legal requirements, cannot be held responsible for any digression or non-compliance in respect of these matters.
A Tribute to Shirley

Citation on the
Country Music Roll Of Renown
Shirley Thoms
Australia's Yodelling Sweetheart
27/1/1980
Born 12th January 1925, Toowoomba, Queensland. Recorded EMI, 25th May, 1941, to become the first Australian country girl to record solo and first Queenslander on disc. Her ability as a singer, coupled with a delightful personality, endeared her to audiences all over the nation and earned her the title of Australia's Yodelling Sweetheart.
---
After a long battle with Parkinsons Disease and a heart condition, "Australia's Yodelling Sweetheart" Shirley Thoms-Bystrynski passed away on Thursday, July 1, 1999, at Summerland Point, Lake Macquarie, NSW, aged 74.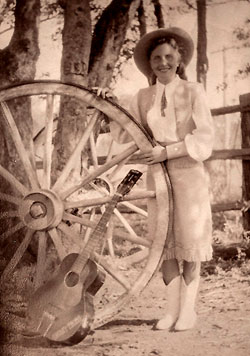 Born January 12, 1925, at Toowoomba in Queensland, Shirley, was raised in a family of seven children. She was to become a pioneer of Australia's country music industry.
Known in later years as "Australia's Yodelling Sweetheart", Shirley held the distinctions of being the first female solo act to record country music in Australia, the first Queenslander to be featured on disc and the first female to be elevated to the Country Music Roll of Renown.
She started her career singing and yodelling Tex Morton and Harry Torrani songs and entered a Bundaberg talent quest, which she won, with Torrani's Mockingbird Yodel.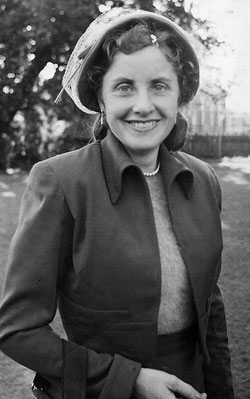 Businessman Bill Cook saw Shirley performing and approached her parents to see if he could take the young girl under his wing and help her build a professional singing career. He was to encourage Shirley to write her own songs and to learn how to play guitar.
At the age of 16 (in 1941), Shirley went to Sydney and recorded for the now famous red and green label Regal Zonophone under the guidance of then Artist and Repertoire manager, Arch Kerr. One of her most famous songs, "Faithful Old Dog", emerged from her first batch of recordings.
Shirley toured with George Sorlie's variety shows and, during the war, entertained armed forces throughout Australia and New Zealand. During this period, she kept on writing songs and recording and later toured with Sole Bros Circus where she met her first husband John Sole.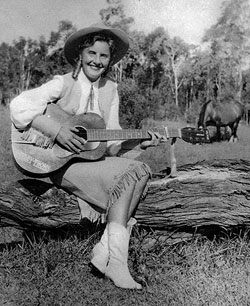 After recording several "sides" for the Rodeo label, Shirley gave up show business for home and family, but tragedy struck with the premature death of her husband John. The couple had only one child, a son, Peter.
In 1970, Shirley was encouraged by Tamworth radio station 2TM to come out of retirement and appear on the historic Captain Cook Bicentenary Show in the Tamworth Town Hall. This was to spur a brief re-emergence of Shirley's career as Eric Scott of Hadley Records signed her to a recording contract.
She recorded two albums with Hadley, the first released in 1970, the second in 1972. (Shirley's Hadley recordings are now available on CD through Bellbird Music.)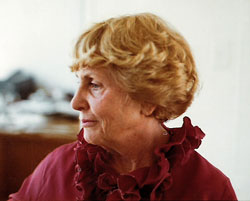 Shirley was elevated to the Australasian Country Music Roll of Renown in 1980, the fifth to be recognised with Australian country music's highest honour, following pioneers Tex Morton, Buddy Williams, Smoky Dawson, and Slim Dusty.
She was inducted into the Country Music Hands of Fame the same year.
Some of the most memorable songs for which Shirley is remembered include "Where The Golden Wattle Blooms" and "Yodelling In The Moonlight".
In her later years, Shirley battled Parkinson's Disease and a heart condition. During this period she spent a lot of time writing poetry, which hopefully may be released in print one day.
Shirley was buried at the Pinegrove Memorial Park Cemetery, Minchinbury, NSW, on Monday, July 5. She was survived by her second husband George Bystrynski.