The Story of Australian Country Music
– Slim, Chronicler of the Bush
A Tribute to The McKean Sisters
Arch Kerr – pioneer record producer
Australia's College of Country Music
Brief History of the Golden Guitar Awards
BRIEF HISTORY OF STAR MAKER
Country Music Capital Meets Music City
History of the College of Country Music
How Tamworth became Country Music Capital
How the College of Country Music Works
Narrative! Narrative! Narrative!
Origins of the Tamworth Country Music Festival
For more information
Contact: Max Ellis
Email info@historyofcountrymusic.com.au
Disclaimer
All matters relating to the conduct of this site remain under the total control of Max Ellis or his nominees who will endeavour to ensure the accuracy and balance of the content and proper conduct of the site but, subject to legal requirements, cannot be held responsible for any digression or non-compliance in respect of these matters.
Brief History of Star Maker
Star Maker is Australia's best known, most successful and most prestigious talent quest for young Australian country music singers.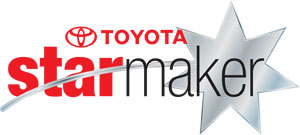 It was started in 1979 by Radio 2TM's country music division BAL Marketing which, at that time, was organising the already highly successful Australasian Country Music Awards.
In contrast to the Awards, which were aimed at recognising established professional artists, Star Maker was conceived as a means of offering emerging talent the opportunity to advance their careers in country music as professionals.
Star Maker opens doors of opportunity for the young winners helping them move into music as a career. This is achieved by 12 months heavy promotion of the winners to both fans and industry resulting in an extremely high profile for the current "Star Maker". Many winners have gone onto enjoy enormous professional success.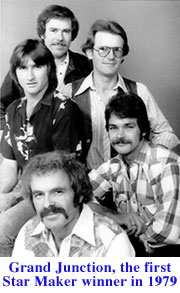 Star Maker winners have an instant profile and are widely sought after as entertainers. They do not receive cash. Their prize is image and opportunity. *
Since 1995 Star Maker has been organised and staged by Rural Press Events in Tamworth. Gary Robertson and then Terry Hill were two of the BALM staff most associated with Star Maker winners over the early years.
Since Star Maker's inception in 1979, the event and associated activity has had an incredible effect on Australian country music, establishing the careers of a number of today's high profile stars. These include Keith Urban, Lee Kernaghan (pictured here with Max Ellis, left, and Gary Robertson in 1982. Click the image for a larger picture), Gina Jeffreys, James Blundell, Beccy Cole, Brendon Walmsley, Grand Junction (pictured above, from the top, Dave Tyne, John Fraser, Alan Trudinger, Lance Clarke and Peter Johnson) and many others. Several other major stars including Troy Cassar-Daley and Tania Kernaghan were Star Maker Grand Finalists. Star Maker winners and finalists have always featured heavily as Country Music Awards finalists, particularly in the New Talent category with 12 Star Maker winners taking out Golden Guitars.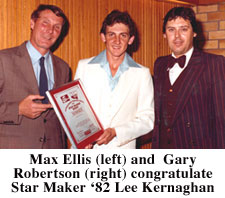 Dates
Held on the October long weekend until 1983, Star Maker was moved to the first weekend of the Festival in January 1985.
Judging
Since it started it has been judged by a panel of six industry experts.
Twenty Finalists are selected from the many entries. These finalists come to Tamworth and the judging panel selects the top Grand Finalists.
The Grand Finals are normally held on the Sunday night on the first weekend of the Festival.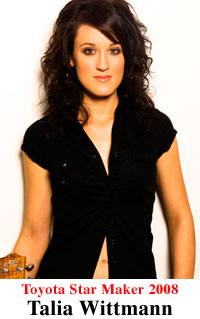 Venue
Originally staged in the Tamworth Town Hall Star Maker later moved to the Tamworth Workman's Club before returning to the Town Hall. In 2004 Star Maker moved to the Tamworth Regional Entertainment Centre.
Entry Criteria
These have changed only slightly over the years. For example originally bands were allowed to enter.
Today entrants must be solo performers over 18 years old who have never had a record release that was not personally funded and are not entrants or previous winners in the Country Music Awards of Australia.
Sponsors
Since its early years Star Maker has attracted top line sponsorship including , The NSW Building Society, Chesterfield Cigarettes, Westpac Bank and Two Dogs Lemonade. In 1996 Toyota took up sponsorship of the Star Maker Quest, giving it and it's first winner, Darren Coggan and subsequent winners, a major boost in exposure, as well as providing them with a Toyota vehicle. After an unprecedented 15 years, Toyota still continues this sponsorship celebrating the 30th Anniversary of the event in 2009.

1979 Grand Junction

1980 Tommy Miller

1981 Leanne Douglas

1982 Lee Kernaghan

1983 Vic Lanyon

1984 Transferred to January '85

1985 Great Divide

1986 Jane Maddick

1987 James Blundell

1988 Jenine Vaughan

1989 Craig Robertson

1990 Keith Urban

1991 Gina Jeffreys

1992 Warren Derwent

1993 Beccy Cole

1994 Clint Beattie

1995 Tanya Self

1996 Darren Coggan

1997 Lyn Bowtell

1998 Kate Ballantyne

1999 Brendon Walmsley

2000 Grant Richardson

2001 Kylie Sackley

2002 Kieran Lancini

2003 Todd Williams

2004 Travis Collins

2005 Samantha McClymont

2006 Cat Southern

2007 Kirsty Lee Akers

2008 Talia Wittmann
2009 Liam Brew
2010 Luke Austen
2011 Luke Dickens
2012 Bob Corbett
2013 Kaylee Bell
2014 Jared Porter
2015 Mickey Pye
2016 Karin Page
2017 Rachael Fahim
2018 Brad Cox
* For example, the 2010 Toyota Star Maker winner not only carried the prestigious title Toyota Star Maker, but also received a big budget recording session with one of Australia's top producers, an album recording deal with award winning Compass Brothers Records, production of a professional video clip of one of the tracks by an award winning director with distribution and promotion of at least two tracks to radio and other media and 50 copies of the album for personal distribution.
To help the winner build their professional careers there is the use of a new, fully serviced Toyota vehicle with a fuel card for the 12 months while a Maton acoustic guitar provides them with a world class instrument.
Other prizes include media promotion with monthly exposure in Australia's leading monthly country music magazine Country Music Capital News, a photographic portfolio with Image Design Photography, guaranteed performance bookings at a designated list of events organised by Artist Network including the Tamworth Country Music Festival, Perth Muster, Mud Bulls & Music, Toyota National Muster at Gympie and Penrith's Museum of Fire plus a special performance at the Toyota Star Maker Grand Final in 2011.