The Adventures of Smoky and Dot Dawson! A couple who have made their lives into a wonderful, exciting and fulfilling adventure that continues to this day and enriches us all.
For more than six decades Smoky and Dot have made a remarkable contribution to the culture and life of our country. By any measure you care to choose, entertainment, contribution to the community or just sheer love for their fellows, Dot and Smoky are remarkable. They are outstanding Australians and the fact that they have spent their lives working for Australian country music is an incredible piece of good fortune for us.
Over the years Smoky and Dot have received just about every honour known to man or woman in this country …. and America too. But tonight I'd like to say a few words on behalf of their family …. that's us… the Australian country music family. It won't be a full biography… that would take days. Tonight I want to salute and thank this wonderful couple who together have done so much to set the standards … musically, professionally and ethically, that we all aspire to. They have helped shape our lives and our industry. We are all their children in one way or another… and we're damn proud of it.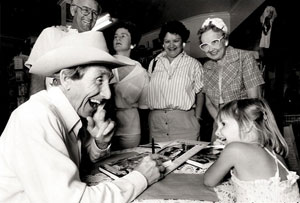 As a child himself Smoky knew hardship. Growing up in Melbourne and later in the bush in Victoria's Kelly country, Smoky tried his hand at many things as well as music, rough riding and even cycle racing. Along the way he developed that strength of character that can overcome almost any obstacle life might throw up. … Always it seems with a song and a smile, … and particularly when that character is coupled with another of similar strength and purpose.
How lucky was Smoky when that day at radio 3KZ in Melbourne he met his Aunty June… that's Dot "nom de microphone" who was running the children's session at the station. She was also an elocution teacher and to this day Smoky's diction isn't bad for a boy from the bush!!! But while she might have taught him to talk… she never taught him to stop!! Luckily for us!
Dot provided the indispensable strength that holds the whole package together. A very successful broadcaster, radio actress, producer and drama coach in her own right in the 30s and 40s, she was the founder of Melbourne's Carols by Candlelight which she set up in the late 30's to raise money for children effected by Poliomyelitis.
They were married in 1944. Together they formed a partnership, which became indivisible. Two brilliant people working as one, supporting and complimenting each other and together creating the legend that is "Smoky Dawson".
When they met Smoky was in a band called the South Sea Island Boys with his brother Ted and it wasn't long before he discovered radio, hillbilly music and yodelling.
His first bright and joyful recording, made in 1941 at Homebush, with the legendary producer Arch Kerr, "I'm a Happy Go Lucky Cowhand", summed up his image perfectly. It was the first of a immense repertoire of original recordings.
After a stint in the army Smoky picked up where he left off and success swept the Dawsons into an incredible life of stardom, recording and touring, sometimes with Stan Gill's Rodeo. Smoky, became a yodelling, whip cracking, knife throwing, film acting, song writing, singing, matinee idol, radio & TV super star…
There were many milestones… It's hard to single them out because there are so frequent along the Dawson Highway…. The Kelloggs radio show in the early fifties was the biggest single networked radio program in Australia up to that time. For 10 years millions of young Australians avidly followed the adventures of Smoky Dawson on radio and later on TV. He was their champion always fighting for right against wrong. Jindawarrabel became a part of Australian folklore, the guitar rifle every boys dream and Flash became more famous than any Melbourne Cup winner.
They went overseas and would you believe a kangaroo Smoky had brought over to New York for the premier of a movie of that name, escaped from a limo on the road to Broadway. For days the media headlined the hunt for Smoky's kangaroo… Smoky attracts publicity like a dog attracts flees.
Smoky was the first artist to record on Hickory Records in Nashville in 1952. The label was started by their close friends Roy Acuff and Wesley Rose, two giants of American country music. They wanted him to become a Nashville Star but Smoky and Dot had other plans. They yearned for Australia.
Then there was Smoky's famous Ranch … today I'm glad to say, remembered by a memorial Gate on the Mona Vale road , thanks to Rotary.
And so it goes on. Smoky and Dot recording, broadcasting, writing, appearing as guests here there and everywhere and all the time promoting all things Australian. Yet they always have time for others especially when it comes to children. But no matter if you're a VIP, a small child or a humble fan, Smoky and Dot will always have time to say a few kind words…. Often in Smoky's case a few hundred until Dot comes to the rescue!!!
The life they have led and still lead would wear out lesser mortals in no time.
I remember an occasion at a Tamworth High School function years ago. After hearing about their hectic life, a hesitant student asked Smoky if he ever got tired.
Smoky smiled across at his wife and replied … " Only after making love with Dottie".
Spreading laughter and happiness, on and off the stage, is a key part of their lives. A song and a smile means something real to the Smoky and Dot.
There are many facets to the Dawsons life. Smoky's has been an active member and high office holder of the Masonic Lodge and of Rotary. He is also a patron of Childrens Hospital Bear Cottage Foundation, The Stockmans Hall of Fame and the Australian Country Music Foundation. He and Dot are still actively involved in public broadcasting, …… the list goes on and on.
Smoky and Dot have a long association with Tamworth even before the Awards started in 1973. They are stalwart and active members of the CMAA and apart from the odd Golden Guitar and Roll of Renown, Smoky has probably been on more awards shows and CMAA concerts as a guest presenter or performer than anyone else. Smoky and Dot are the first Life Members of the CMAA.
Nothing is ever too much trouble for Smoky and Dot. Countless people, including many young artists, can attest to their kindness, help and support. They are indefatigable and their generosity, immeasurable.
And so while we can list their achievements and laud their fame, it is as people that Smoky and Dot really shine.
They are an inspiration to us all.
Dot and Smoky we thank you from the bottom of our hearts for your love and your massive contribution to Australian country music.
You may be legends to those who recognise you through your achievements on stage, your records and broadcasts, but we who know you personally, will always love you both, .. for what you are.
Smoky and Dot … your country music family salutes you.
Smoky died aged 94 on the 13th February 2008.
Group photo above: Smoky with a young fan and Dot (far right) and Grynet Ellis. Click on the photo for a larger image.