---
At just 14 years of age, the young Robert Lane ran away from home, beginning an adventurous life which would take him to all parts of the world.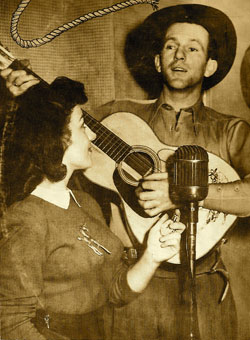 After some experiences as a seaman, cowboy, drover and hobo, Tex moved to Australia in 1932 (age 16) and took to carrying his swag and working wherever jobs were offering on outback stations where he first began to get his performing name.
Throughout his journeying around Australia, he did quite a bit of street singing in country towns. His distinctive voice and natural songs, his whimsical sayings and homespun humour brought happiness to thousands of people.
In the early '30s, Tex recorded a number of tracks on custom made, 7 inch aluminium discs in Wellington NZ. Two are now in the National Film & Sound Archive in Canberra and another in Country Music Capital's Walk A Country Mile.
Eventually, Tex's fame spread to the cities, and radio stations and recording companies began to sit up and take notice. In 1936, he cut his first commercial records in Sydney for EMI's Regal Zonophone label and within four years, had established a distinctly Australian bush ballad style that was to be his legacy and inspiration for future generations. Though he initially sang American songs he quickly realised that people wanted to hear about their own country and he was soon writing and recording songs about Australia.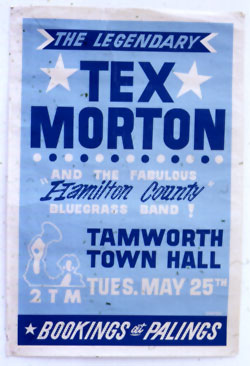 By the late 1930s, Tex had become Australia's most popular recording and radio artist… his appealing songs and stories backed by his own accompaniments on the guitar increasing his popularity tremendously. He did quite a bit of professional work on commercial radio and undertook an extensive tour throughout Australia for national broadcaster the ABC.
And throughout all this success, Tex retained his love of the outback. In the early '40s, he formed Australia's "greatest Rodeo and Wildwest Show" for a tour throughout the nation. His experiences in the outback country had convinced him that Australian riders were just as capable as those of Texas and other parts of America, and he wanted to show the Australian public just what they could do.
Tex collected most of the notable buckjumpers and rough riders Australia possessed and, in Tex's own words… "I can safely say without fear of contradiction that the Australian boys and girls selected are about the finest rough riding team I have ever seen anywhere. I am convinced that in Australia we have horsemen and horses equal to, if not better than, those of any other country in the world."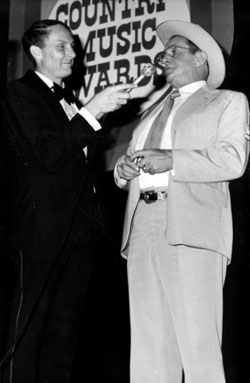 Transport restrictions caused by World War II created many difficulties with the Army taking over most of the vehicles Tex used for his rodeo. So during the war, Tex went back to radio, theatre and recording work, in between times managing to get in quite a bit of entertainment for the troops.
n 1949, he left Australia for North America and Europe travelling through Canada and the USA, and enjoying spectacular success as a stage hypnotist, setting attendance records in major venues such as Carnegie Hall in New York. Tex knew and worked with many stars of the day including Hank Williams and even became a Hollywood film actor in his own right. He returned to Australia in the early 1960s.
Here he continued a varied career in the entertainment business, ranging from live performance and sharp shooting to film (including "We Of The Never Never") and television acting and voice-over work. Many will remember the "Where Do Ya Get It?" ads on TV and radio… Tex was the original voice in these commercials).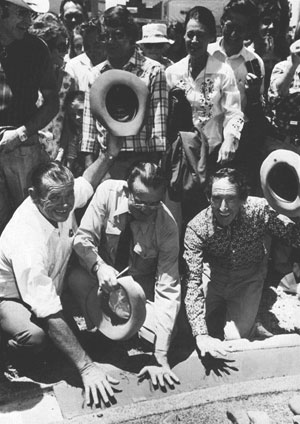 It was perhaps by being a bit of a jack-of-all-trades rather than focusing solely on one area of activity that kept Tex somewhat in the background in his latter years. But he always maintained a passion for Australia, the bush, writing, singing, recording and reciting… becoming known through the 1970s as the consummate entertainer.
He participated regularly in the Australasian Country Music Awards as a special guest and his recording of The Goondiwindi Grey won the Golden Guitar for APRA Song of the Year for Wallace & Hauritz in 1974.
In 1976, Tex was the first to be elevated to the Australasian Country Music Roll of Renown in Tamworth and one of the first four, together with Buddy Williams, Smoky Dawson and Slim Dusty, to be inducted into the Country Music Hands of Fame cornerstone the following year.
In 1982, at his final major public performance, Tex thrilled a crowd of 5,000 people in the 2TM Big Top erected in Tamworth for a series of super shows and the Country Music Awards. His electrifying solo performance of songs like He'll Never Be Missed and other Morton classics captured a whole new audience while confirming his position as Australia's finest show man.
Tex Morton died on July 23, 1983, aged 66.