A presentation at the Australian Country Music Foundation Tribute To The McKean Sisters, by Kate Nugent and Max Ellis, January 26, 2007.
If the 1930s saw the birth of Australian country music, then it was the late '40s and early '50s that really saw it flower and set the seeds for the enormous success it later achieved … and one of the most influential and popular blooms in the garden in those days when country music was young, was, without a doubt, a duo of two very attractive young ladies called The McKean Sisters.
Joy and her younger sister Heather grew up in a musical house hold where both their Mother and their Father, who was a steel guitar playing school teacher , encouraged them to enjoy music of all kinds and particularly the songs of Jimmie Rogers, the Carter Family and Harry Torani. Later when they moved to Yanderra near Mittagong in the southern tablelands, the girls expanded their skills, with Joy adding the accordion to the piano and steel guitar she already played while Heather played ukulele and both discovered they could yodel!!
And the girls always loved visiting their grandmother Killen's farm at Doyles Creek near Singleton in the Hunter Valley for long holidays where they soaked up the bush atmosphere and the music. About that time they also got to know a McKean aunt who was later to play her own special roll in Australian country music, Aunty Una… "The Best Bloody Bouncer in the Business" as Slim called her.
From Yanderra the girls would travel down to Sydney for music lessons with Norm Scott. About this time they made their first appearance on radio on Norm Scott's 2GB radio show and soon they were taking part in war time fund raisers, school concerts and so on.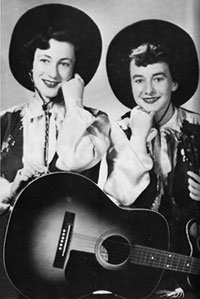 As a child Joy contracted polio and was treated in Sydney by the famous and controversial Sister Kenny …. That must have been a meeting of two strong willed women but in the process Joy became an even stronger person and as a bonus …. she became a champion swimmer.
In 1942 the budding duo got a big opportunity … an appearance on Dick Fair's legendary Australian Amateur Hour Show followed by The Diggers Show at the Tivoli Theatre where they brought the house down.
Their Dad joined the army in 1943 and the family moved to Murwillumbah in northern NSW before moving back to Birchgrove in Sydney a year later where they continued their apprenticeship with lots of performances at charity concerts, parties and square dances. As they grew up the opportunities increased and they even sang at the Sydney University Revue where Joy was a student.
By 1949 the girls were working at the Alert Radio store in Parramatta when Manager Gerry Ormsby had an idea for a radio show. The Melody Trail with the McKean Sisters was launched on 2KY quickly becoming an institution with fans. It was so successful that it ran until 1956, by which time Joy and Heather career's had moved into different paths. In the last couple of years it was mainly hosted by Heather but also featuring music taped on tour at Slim Dusty Show talent quests.
Those first years of the 1950s was an exciting time for the little group of singers and musicians in Sydney who all loved performing country music. They mostly seemed to coalesce around the flamboyant promoter/performer Tim McNamara and his very popular radio show, his huge talent quests, concerts and tours. The group included names that were to become the backbone of Australia country music for decades to come … names like Slim Dusty, Reg Lindsay, Gordon Parsons, Rick and Thel Carey, Dusty Rankin, Frank Ifield, Johnny Ashcroft, Shorty Ranger and others .. and including of course Heather and Joy McKean.
In 1950 the McKeans did their first recording when they backed Tim McNamara on a couple of songs. Later in 1951 it was Tim who steered them to the Rodeo Label where they ended up cutting 18 sides, at least half of which were their own songs. These included classics like Gymkhana Yodel, Yodel Down The Valley, Sunset Home and Morning Mail.
They were becoming successful and busy entertainers but life started changing when during a trip on the old Sydney Showboat Joy met a confident young bloke from Kempsey who after a somewhat slow start, I'm told, finally proposed to Joy in "Betsy", his old Ford V8 and they were married in December 1951, with Joy becoming Mrs Kirkpatrick.
In late 1950 another ambitious young Sydney singer seeking fame and fortune, rode on his motorcycle back from Adelaide where he was working, with his guitar of his back to take part in the Australia's Amateur Hour. He won that quest, launched a career and in 1954 Reg Lindsay and Heather were married.
With marriage, the first instalment of the McKean Sisters saga started coming to an end. The crunch came in September 1954 when Joy and Slim took off on their historic first tour while at the same time Heather and Reg's concert and touring commitments were also taking them into other areas. As each sister went her own way it signalled the start of new lives and careers and an end to the old duo. The last time Joy and Heather performed together as the original McKean Sisters was at a concert featuring Slim and Reg in Sydney in 1955.
As well as her partnership in Reg's growing career, Heather went on to build a life of her own as a solo artist, recording many albums and winning a Golden Guitar for Female Vocalist of the Year in 1976. There was an emotional moment we'll all remember that night when the two sisters stood together on stage again for the first time in over 20 years, as Joy presented Heather with her Golden Guitar. Nothing like a few tears to make a show memorable!!!! Heather worked in radio and TV production including of course co-production of the Reg Lindsay Country Homestead. In the 70s she worked for the Country Music Association in Nashville where she also represented Australia in the International Country Music show. Back in Australia she was President of Country Music Australia, one of our early industry groups. With Reg she also brought up three fine daughters Diane, Sandra and Joanne.
Joy and Slim had two children, Anne and David. Joy's professional life has been an amazing story of achievement in many fields. She is renowned as one of Australia's finest songwriters and has won 6 Golden Guitars including the very first to be Awarded in 1973. A recording artist in her own right she has of course featured as both performer and composer on many of Slims albums. In fact Joy was an equal partner in every aspect of the Slim Dusty legend … and she still is, overseeing the operation of Slim Dusty Enterprises, as Chairman of the Slim Dusty Foundation and in a thousand and one other ways. And there was her roll in creating and building the CMAA and so on and so on !!!! She probably hates to hear this but she really is the Matriarch of Australian country music.!!!
So with these two busy, high achieving sisters it is no wonder I guess, that it took 30 years to get them back together on stage again as the McKean sisters … and I can tell you that their many fans loved every minute of the reunion. It was held at the Tamworth Festival in 1983, the year they were placed on the Australasian Country Music Roll Of Renown
In 1993 the McKean Sisters recorded a CD, The McKeans On Stage and they continued to perform together whenever the opportunity arose for the next decade generally on stage with the Slim Dusty Show.
So tonight let us salute two giants of Australian Country Music. Originally a partnership that blossomed into two wonderful, courageous, intelligent, talented, strong, understanding, considerate (and I might say attractive) individuals, who as performers and as people, have always set themselves highest possible standards. Together they have made a huge and highly significant contribution to the music of Australia and to our industry.
Ladies and gentlemen Please acknowledge Heather and Joy … The Magnificent McKeans.